DESIGN-A-DOCK
Click here to use Floe's unique, graphical system to design your own dock, and see how it will look in your space.
---
DOCKS
Because of their great design, flexibility, easy installation, and durable construction FLOE is simply the best choice available for dock systems. Here are a few reasons why:
FLOE uses a Quick-Connect system to link each dock section. This allows you to quickly add or detach sections so you can move them independently to make installation and removal easy.
Quick-Connects can be easily added anywhere, so you can create the perfect system for your needs by adding sections, changing directions and creating boat slips.
---
Modular Roll-in
From the simplicity of this...
1 - 4'x12' ramp
2 - 4'x16' sections
2 - wheel kit pairs
1 - support post pairs

To the complexity of this...

1 - 4'x12' ramp
8 - 4'x16' sections
10 - 4'x12' sections
6 - 48" wedges
18 - wheel kit pairs
1 - support post pair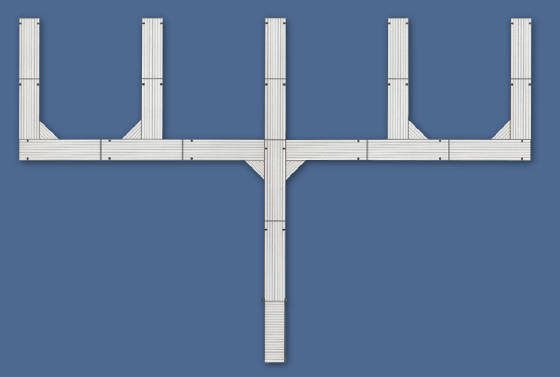 ...and everything in between! You can add components as your needs grow or your budget allows.
Click here to see the types of dock sections available.
---
Wheel Kits on Every Section
FLOE has wheel kits on every section vs. one wheel kit at the end of a long dock. This makes it easier to lift the shore-end of the dock when installing and removing. No matter how long your dock is, you never have to lift more than half the weight of one section. You can even add a shore-end wheel kit to eliminate lifting when you roll your dock in and out. Wheel kits on every section also eliminate the stress that is normally put on the center of a long conventional dock when its center support poles are lifted during transit.

---
Top Side Leveling: No need to get wet!
FLOE has a "top-side" screw-jack independent leveling system on each dock section vs. one leveling system at the end of the dock with mid-section support poles. This means you can level each wheel kit independently on every section. If one wheel drops into a hole or sinks into the mud it can easily be leveled. Compare this to trying to lift and level the heavy mid-section of a dock that uses dangerous and unsightly support poles. Screw-jacks also eliminate winches, broken cables or binding pipes which are used conventionally.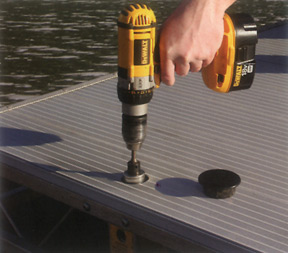 ---
Sectional Docks
Sectional docks are ideal if you have minimal storage space or hilly terrain. FLOE's sectional legs are flush mounted, eliminating unsightly and potentially dangerous support poles. They remove in seconds with no tools and stack in minimal space. When price is a leading factor in the value equation, the sectional dock is the least expensive per running foot.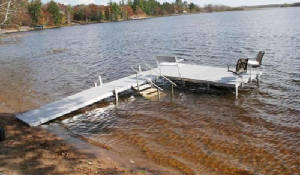 ---
Dock Accessories
Not only can you pick and choose components to create the perfect system for you, FLOE offers many ways to add those final touches to make it the dock of your dreams.

Add bumpers to keep scratches off your prized possessions, ladders for swimming in the lake on those hot summer days, or a bench or furniture to ease away the weekend with a good book in hand. A pivoting shore-end ramp provides easy dock access and additional length and a wedge will give you an attractive, safe corner.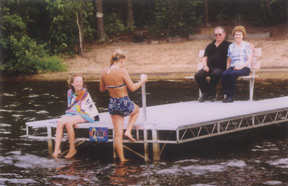 Swim Ladder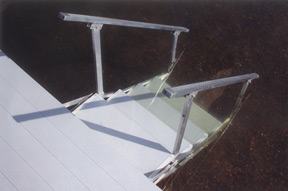 Dock Steps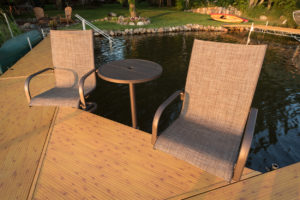 Dock Furniture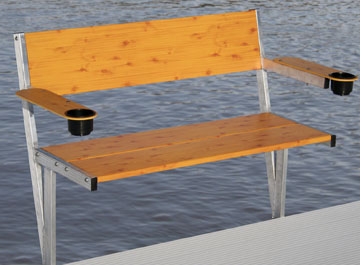 Aluminum Bench (available in wood-look (pictured) or aluminum finish)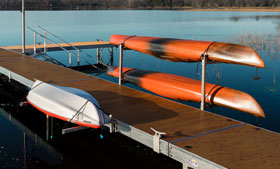 Lake Accessory Rack