Lifts
Looking for a lift that the whole family can use with ease? From an easy-to-spin crank wheel to a wireless remote-controlled electric system,
no one makes it easier to raise your boat high and dry. FLOE has added even more convenience by designing a variety of superb guide-in
systems that allow even the most inexperienced boater to park like a pro every time!
Easy Level System
With the Easy-Level patented adjustable leg, you can effortlessly level your lift without getting in the water. All you need is a cordless drill or a
socket wrench. Simply turn the nut inside the leg to adjust lift up or down.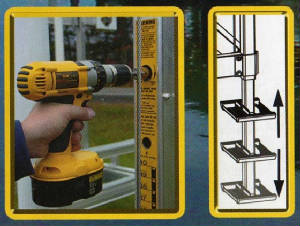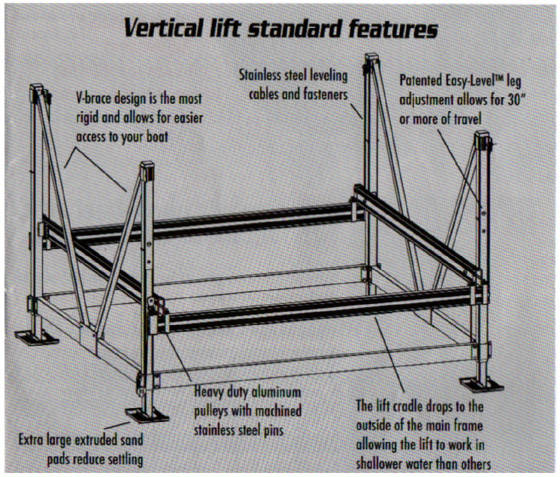 Vertical Screw Drive Features
Raises and lowers your boat in one-half the time.
Drive train is whisper quiet with no clicking winch gears or pinging cable.
Environmentally friendly - no possiblity of oil leaks common with hydraulic lifts.
No winch cable to ever replace.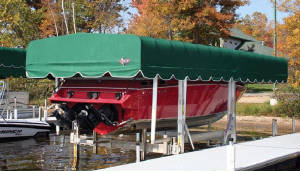 Accomodates everything from a PWC (personal water craft) to 10,000#+.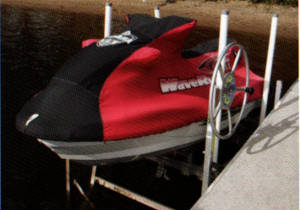 On wheels for easy installation and removal.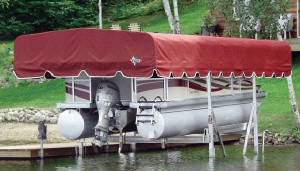 Extra deep canopy with solution dyed polyester fabric (no fading, blowing in the wind).
5,000 - 10,000 capacity.
Accessories
Boat Lift Wheel Kits
Allows you to rolll your lift in and out without heavy lifting.
Airtight wheels provide about 60 pounds of flotation each to lighten the lift while moving it in the water.
Can stay permanently mounted to lift.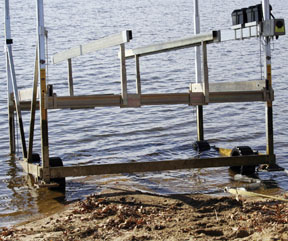 Extra-Deep Canopies
For those who require more coverage and protection, FLOE offers a canopy extension kit. Canopy extension kits add an additional 18" of side coverage to FLOE's already extra-deep canopies. These kits are available in all of our popular SDP fabric colors.

Canopy extensions require that the lifts be anchored. Canopy extensions use sturty, fully adjustable aluminum fames that bolt to the bottom of the main canopy rails to support the extra fabric.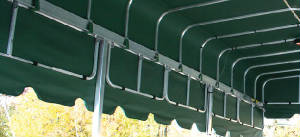 Full-Length Bunk System
Maximum boat hull support and stability
Strong aluminum extrusion contours to boat hull for complete support
Bunks can be off-set towards dock for easy access in and out of your boat
Infinite vertical and horizontal adjustment to accommodate most boat hulls
Strong aluminum extrusion with interlocked vinyl cushion contours to boat hull for complete support
Sold in pairs

Pro-Park Verticle Guide-In System
For boats 18' or longer, Pro-Park has the ultimate "can't miss" double entrance guide-in system. It starts to guide your craft 32" prior to the boat entering the lift and again as you enter the lift.
They are designed to be used in combination with another pair of single or double guide-ins at the front of the lift. For smaller, easy to handle boats, you may opt for two pair of single Pro-Park guide-ins.
Guides boat by its rub rail so it never mars or touches the hull
Maintenance free PVC guide tubes covered by SDP fabric
Aluminum attachment framework with infinite width adjustment
Sold in pairs of either single or double guide-ins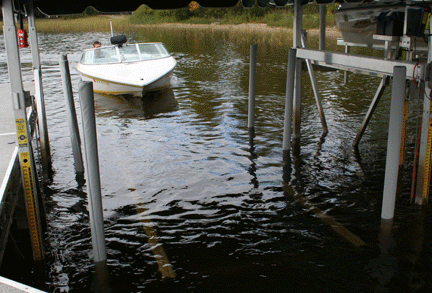 Pontoon Bunk/Guide-In System
The ideal choice for water depths as low as two feet.
Four pair of 25" bunks to hold pontoons firmly.
Aluminum frame bunks with maintenance-free finyl surface are adjustable vertically and horizontally.
Four vertical guides for perfect positioning every time.
Guides are horizontally adjustable.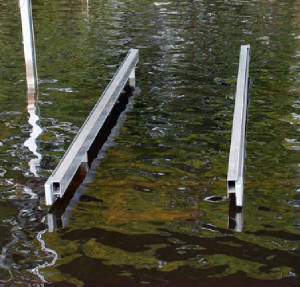 Motor Stop
Stops your boat in the same location every time.
Keeps your boat from floating through the lift.
Aluminum framework with vinyl bumper stops lower until 27" away from lift cradle.